This event is brought to you by: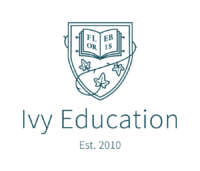 Ivy Education
1 hour long online interview sessions in small groups to prepare for the January interview season.
The sessions:
Group interview practice and coaching

Cover a variety of questions and provide experience in debating and discussing
Build confidence and future interview skills
Include verbal feedback and a full written report
When
Fri 27 Nov , 2020
Fri 18 Dec , 2020
Where
Description
7+/8+ Sessions

23rd November | 16:30-17:30

18 December | 10:00-11:00

11+ Sessions
27th November | 17:30-18:30

18th December | 12:00-13:00

Prices
1 Session: £150
2 Sessions: £250
What will the interview sessions consist of?
Up to six children per session*
Opportunity for your child to feel confident about offering their opinions and answers and to learn from the answers of others
Looking at questions and answers, providing strategies,

Learning how to debate and discuss confidently and respectfully

Building life skills for future interviews
*A session must have a minimum of two sign-ups to run.
Book your place
Confirm and pay for your place on this course - limited places are available - payments are processed securely using Stripe.
Total: £150
Pay with card
If you would like to book more than one place, please complete the form multiple times.

Gallery
Thank you for introducing us to Mr George Marsh. We all enjoyed talking with him. My husband was particularly pleased to have gained an insight into the British exam system and instant feedback on the boys' performance. As for the interview today, the boys came out very much relaxed. Mr Marsh put them into a right frame of mind and certainly it helped.
Alastair and his team provide a wealth of knowledge and insight into entrance exam procedures, which was gratefully received as this was our first time going through such a process. The tutor provided was not only encouraging and enthusiastic but also understanding and patient and always had time to talk through any queries we had. The support on interview preparation was top notch, and arranged at quite short notice, and helped to calm our nerves when we felt anything but calm. When we first decided to go down the route of putting our son in for 8+ exams at some of London's top boys' schools we hadn't realised how stressful the process would be. Alastair was always responsive, composed and gave much needed practical advice along the way. We really couldn't have asked for more. We will be back when it is time to go through the process all over again with our second child!